Clear + Brilliant Skin Treatment
Has your skin's youthfulness and radiant glow gone away? Has time aged your skin with wrinkles, lines, and creases? Maybe you have a simple blemish that you want to be unnoticeable. If any of those are a problem you face, you should try the Clear + Brilliant treatment, offered by New York Top Plastic surgeon, Dr. Andrew Jacono.
With 2 distinct lasers, Clear & Brilliant can treat skin discoloration, pre-cancer spots, sunspots, and age spots: while also reversing signs of creases, acne scars, fine lines, and wrinkles.
What is Clear & Brilliant?
Clear + Brilliant, also known as Baby Fraxel, is a facial treatment laser procedure that uses pulsating beams of light which remove layers of skin to reveal a much smoother and clearer appearance. It is similar to another treatment commonly referred to as "Fraxel" due to the same technology utilized, however, Baby Fraxel gives out a more versatile option that is less intensive.
Baby Fraxel vs Fraxel
Baby Fraxel and Fraxel both produce similar results in terms of the treatment and technology used for their exceptional results in that matter. However, the main difference is Fraxel penetrates deeper into the skin and has a longer recovery. Because of this Fraxel can treat deeper lines and wrinkles with more advanced skin aging. Baby Fraxel is quick and gentle as it uses its patented Intelligent Optical Tracking™ System technology to ensure an even distribution towards all treated areas. This allows little to no downtime with only one session, allowing it to fit for the patient in his or her schedule.
Why should I get Baby Fraxel?
Clinical studies have shown Clear + Brilliant can prevent visible signs of aging while addressing the overall impact that the environment and aging can have on your skin. A single treatment leaves your skin with a more radiant look, giving your face a younger appearance than before. It treats the patients' wrinkles, sun damage, and acne scarring.
How are Clear + Brilliant treatments performed?
Every skincare laser treatment is based upon advanced technology, making each session much more precise and efficient in the cosmetic field. All treatments begin with a consultation with a licensed health care professional in order to see if you are a good candidate for Clear + Brilliant.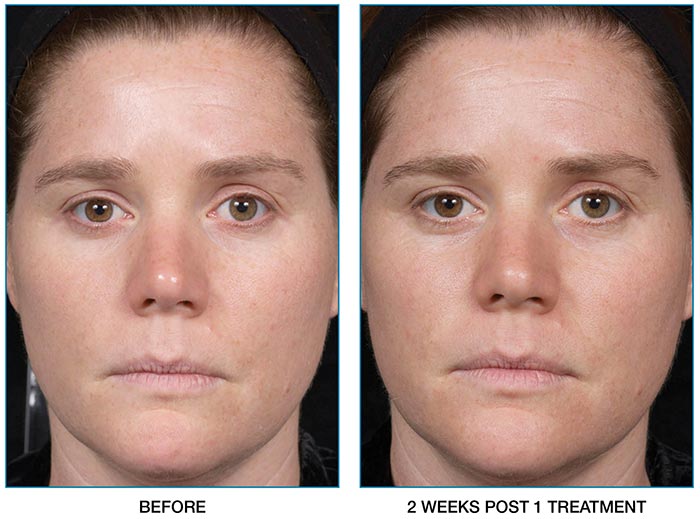 Recovering from my Clear + Brilliant Procedure
There is slight redness of the skin that ill last for a few days but is easily camouflaged. After a few weeks, reduction in fine lines, smaller pores, and better textures from the tones of your resurfacing skin will begin to appear. The redness from the procedure will go away, along with any pain you have post-op. All of this is possible without the need for real-time surgery or injections seen in many other skincare treatments while displaying a more natural skin appearance for the patient.
How does Clear + Brilliant Improve your look?
Clear + Brilliant treatments are great for women and men who are looking to prevent and reduce the early symptoms of aging or to maintain their youthful appearance. Overall, patients have seen noticeable results from their improved skin appearance and have lasted for many exceptional years to come.
Who is a Good Candidate for Clear + Brilliant?
Male and female patients from various ages are considered good candidates for Clear + Brilliant. They should also have an existing skin-care regimen and realistic goals for this skin resurfacing. The best way to determine if you should get a Clear + Brilliant treatment is by scheduling a consultation to discuss potential goals.
People who would not be considered to be good candidates for Clear + Brilliant done are people who are going through or have already had, Accutane treatment is done on them within the last 12 months. This also includes pregnant women, or women who are breastfeeding; and people who have a history of hypertrophic scarring.
Clear + Brilliant FAQs
What areas can be treated?
Any area that has lines and wrinkles, discoloration, acne scarring, or stretch marks.
Is Clear + Brilliant painful?
No. The surgeon will apply a numbing ointment before the procedure. The most you should feel is a warm sensation, as the laser moves across your face. The procedure itself will not be painful, but up until a week after the procedure, you should expect a moderate stinging sensation, which can be treated with prescribed pain medication.
Is Clear + Brilliant safe for my skin?
Clear + Brilliant was FDA-approved in 2011, meaning it has been a safe and trusted practice for around 9 years. The treatment can be considered even safer when used by a doctor with substantial knowledge and skill, allowing them to evaluate your skin and acknowledge the best course of treatments accustomed for you. Dual Board Certified, Facial Plastic and Reconstructive Surgeon, Dr. Andrew Jacono is, of course, the right one for the job.
What kind of results can I expect?
After your procedure, your skin should feel softer and appear more youthful and radiant, with a nicer texture and tone.
How many treatments will I need?
The number of treatments will depend on the patient's desired outcome and what the doctor recommends, after proper consultation. After 4-6 treatments, patients will usually report noticeable improvements in their skin tone and texture.
When do Clear + Brilliant results appear?
The results of Clear + Brilliant treatment are both immediate and progressive. Within 1-2 weeks after one treatment, your skin will start to feel softer and improve overall.
How long does it last?
How long the results last depend on the skin condition, age, and how well you maintain skin protection. With optimal maintenance of the skin, results can last for several months.
What Are Potential Side Effects I may Encounter?
Most noted side effects are considered minimal, which include temporary redness and swelling upon the treated area. However, these usually fade away quickly, and they are easy to cover up with makeup if needed.
Schedule Your Clear and Brilliant Consultation
The medical professionals at JSPA are ready to help you achieve your aesthetic goals with their knowledge and skill. Please contact us today to schedule your appointment or call (516)773-2424, to find out more about Clear + Brilliant.